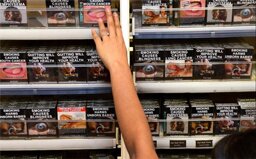 Reports have suggested that David Cameron has decided to scrap plans to introduce standardised cigarette packets in a hope put people off smoking cigarettes.
Officials have been weighing up the plan for weeks but it is understood that the initiative will be announced during next weeks queens speech.
But now reports have emerged and it is thought that David Cameron has ordered for the proposed law to be abandoned during the speech on May 8.
A Whitehall source told The Sun: "Plain packaging may or may not be a good idea, but it's nothing to do with the Government's key purpose.
"The PM is determined to strip down everything we do so we can concentrate all our efforts on voters' essentials. That means growth, immigration and welfare reform."
Deborah Arnott, chief executive of the campaign group Action on Smoking and Health (ASH), said: "For a Whitehall source to say that improving public health and reducing premature mortality is no longer one of the Government's key purposes is shocking.
"Smoking remains the major preventable cause of death and disability and measures to reduce smoking prevalence are popular and effective. Over 60 per cent of the public support standard packaging for cigarette packs.
"It will take a lot of explanation if this crucial public health measure is not included in the Queen's speech on 8 May."
Australia was the first country to put the plan in place by putting cigarettes in a standard colour just showing the warnings and the logos.