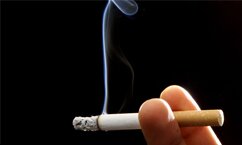 A plan to be unveiled at Holyrood will ban Scots from smoking in their vehicles if children or child under the age of 16 are present.
Lib Dem MSP Jim Hume hopes to introduce a private member's bill that would see the smokers £60 if they took the law into their own hands.
Jim Hume's said: "We have all seen it. A mum or dad on the school run with their child in the rear of the car.
"As they drive a cigarette is sticking out of a small gap in the window, but mum and dad probably have no idea just how much tobacco smoke is building up in their car despite the rolled down window.
"Research by academics in Scotland, New Zealand, Canada and the United States has shown that in various conditions of in-car ventilation, tobacco smoke levels far exceed World Health Organisation guidance levels for indoor air quality."
The ban comes just weeks after it was confirmed that retailers can't put tobacco on display.
Hume suggest that these are the right steps to take to reach full tobacco control saying: "If we want to build a fairer society for our children and our families it is time to act.
"Children can't choose alternative means of travel to school, to swimming practice or to see their friends.
"The consultation will close at the end of August and I hope that people from across Scotland will read the proposals and have their say."